5 Easy DIY Dollar Tree Organization Ideas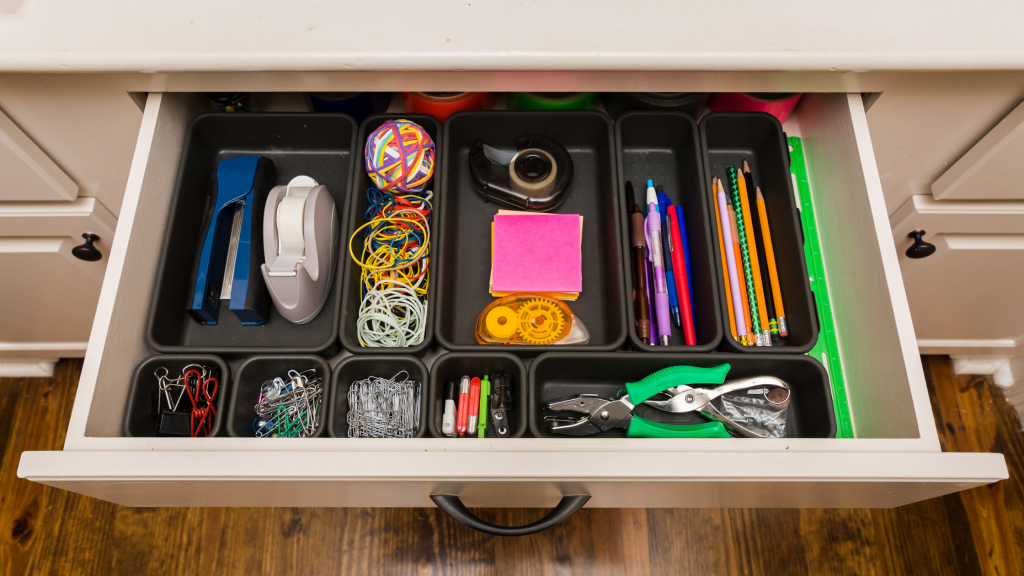 If you're like me, you're always looking for ways to organize your home on a budget. You don't have to spend a fortune on fancy home organization systems (but you can if you want to!). I went to the local dollar store on a mission to scout out 5 super easy organization hacks that you can implement today to get your home in order without spending much time or money. Check them out below!
1. Use a file sorter as a linen closet organizer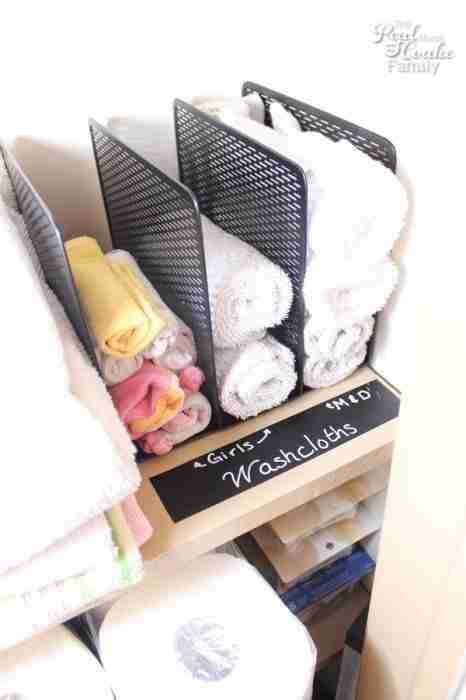 (Image Credit - Real Creative Real Organized)
When I open the cabinet door, washcloths and hand towels seem to have magically ended up on the floor. A super easy fix is to stock them in a file organizer to create the perfect storage solution.
2. Get all the coloring utensils in one place with a shower caddy
(Image Credit - A Pumpkin and a Princess)
Ditch the tattered old crayon boxes and purchase a plastic organizer at the local dollar tree for a low-cost art supply storage bin that makes everything easy to access. For taller items like pencils and paint brushes, keep them upright by using cleaned-out peanut butter jars.
3. Use a cutlery divider for makeup storage
(Image Credit - Cosmopolitan)
These trays are also great for nail polish storage, or use one in the junk drawer to clear up space and quickly grab what you're looking for.
While you're at it, put some cute contact paper in your makeup drawer, and use a dab of hot glue to secure the little bins, so the whole thing doesn't slide around whenever you open the drawer.
4. Actually find what you're looking for by using storage bins in the laundry room, fridge, pantry, or bathroom closet
(Image Credit - Homemade Ginger)
Dollar store baskets are one of my favorite Dollar Tree finds because these are so versatile! Fill these see-through baskets with towels, kids' toys, cleaners, or anything else causing clutter around the house.
Use labels to save even more time, creating an organized basket system that is super cute and will keep the cabinet tidy.
Another variation is hanging a few command hooks on the wall or inside a cupboard door. You could use these little hanging bins to store root vegetables, food storage containers, loose Mason jar lids, or other small things cluttering up the lazy susan.
5. Never again deal with a massive tangle of cords by using hair clips to keep everything tidy
(Image Source - 100 Things 2 Do)
Everyone has a few boxes of random cords and cables that they never know what to do with, and it's so stressful trying to find the right one. I previously saw someone using zip ties to keep cords from getting tangled, but this didn't account for being able to use the cords in real life.
I love the idea of using cheap hair clips. If hot pink and neon orange doesn't work with your home decor, use black or gold spray paint for one of the easiest and cheapest storage ideas to finally get that electronics basket under control.
Final Thoughts
Dollar Tree organization hacks are easy, cheap, and quick ways to get your home in order without breaking the bank. Give one (or all!) of these a try today and see how much more enjoyable it is to live in an organized space. Happy organizing!