7 Barbiecore Paint Colors to Add a Touch of Glam to Your Space
Barbie has been a cultural icon for over six decades, inspiring generations of young girls to dream big and live their lives to the fullest. And now, with the release of the live-action Barbie movie, Barbie is once again making waves in the world of fashion and home decor.
Enter the trend known as Barbiecore—a bold, whimsical style that celebrates all things pink, glittery, and unapologetically feminine. This aesthetic is all about making a statement with your home decor, and nothing says "I'm a Barbie Girl" quite like the perfect shade of pink paint. In this blog post, we'll explore 7 of the best Barbiecore-inspired paint colors to help you add a pop of pink to your space.
1. Peony by Benjamin Moore
Image Source - Warner Bros. Pictures via Vogue
Reminiscent of peony flowers' exuberant and showy nature, this deep pink color captures a feeling of elegance with its subtly cool cast. It offers unexpected sophistication that will give your space a unique and playful touch, perfect for drawing the eye to a statement furniture piece.
2. Be My Valentine by Dunn Edwards
Image Source - Warner Bros. Pictures via Country & Town House
As the name suggests, this deep rosy pink hue with terra-cotta undertones is the perfect backdrop for a romantic or cozy ambiance. It has a touch of violet, which elevates it from being too sugary-sweet, and adds a subtle richness to the space. Although this would be a welcome color in any little girl's room, don't let it stop you from using this shade in a grown-up space by pairing it with warm wood tones and neutral colors.
3. Shocking Pink by MyLand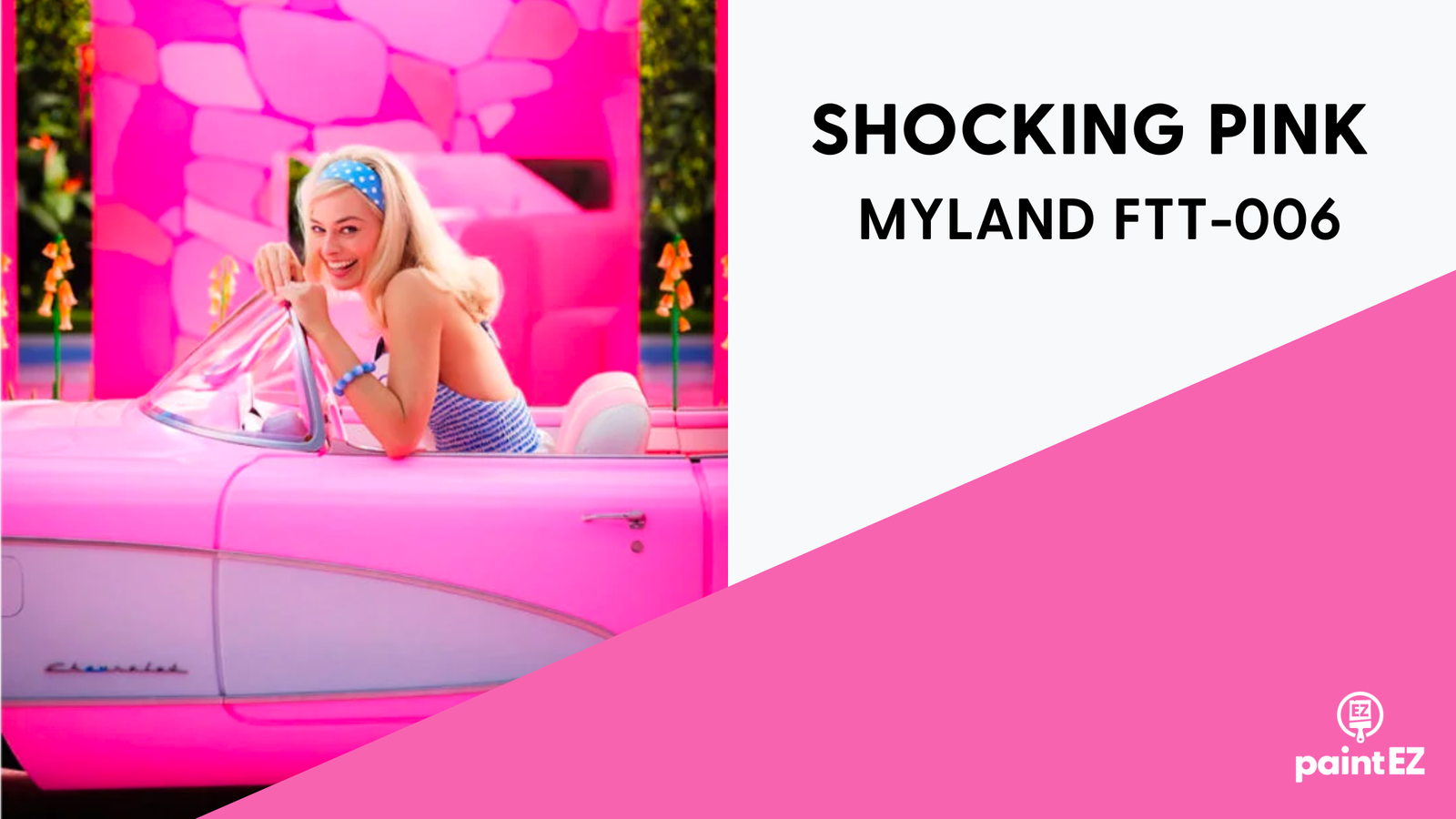 Image Source - Warner Bros. Pictures via Vogue
This neon pink color is punchy and joyful and described as a Barbiecore-inspired hot pink. This mix of red and magenta creates a dark pink shade that provides dramatic energy and plenty of character. It's perfect for painting the frames of your favorite art prints or for adding a playful touch to a child's bedroom.
4. Pretty In Pink by Dunn Edwards
Image Source - Warner Bros. Pictures via People
For those who love the classic rose pink color, Pretty In Pink is a gorgeous option. This light pink hue has vintage vibes and adds a subtle touch of feminine charm to any space. It's perfect for creating a relaxing, comfortable ambiance in a bedroom, bathroom, or even the kitchen.
5. Hot Pink by Krylon Fusion
Image Source - Warner Bros. Pictures via Daily Mail
This bright, bold pink spray paint is perfect for adding a touch of Barbiecore to any DIY project.
Use it to instantly revitalize a worn-out piece of furniture or to create a fun accent piece that will demand the attention of any passerby!
6. Little Bow Pink by Behr
Image Source - Warner Bros. Pictures via Vogue
This medium pink shade is shaded with a hint of violet, making it a great color to use if you want to add a touch of pink to your space without it being too overwhelming. Little Bow Pink is the perfect choice for creating a relaxing and cozy atmosphere in a bedroom or bathroom.
7. Sweet Taffy by Benjamin Moore
Image Source - Warner Bros. Pictures via CinemaBlend
This vibrant, sugary pink color will capture the blithe spirit of childhood and add a playful touch to any space. It's perfect for a kid's room or a light-hearted home office that needs a touch of whimsy.
The Barbie movie has shown that pink is not just a color, it's a statement. These 7 Barbiecore Paint Colors offer a variety of shades and tones that encompass the fun and feminine iconic vibes of Barbie and make it easy to create your own DIY home project or room makeover. From deep and sophisticated pinks to bright and bold hues, there's a shade for every mood and space. So, go ahead and add a touch of glamour and playfulness to your home with these Barbie-inspired paint colors, and let your space sparkle with feminine charm.
Want a professional opinion about how to best incorporate a pop of pink into your living space? Try out our new instant online quote tool or contact us today to schedule a private consultation!