How To: Pick The Right Size Rug For Your Space
Don't let us catch your floors naked.

When it comes to interior design, one of the most common questions is wondering how to pick the correct sized rug to put in your space. Too small, and your room will feel cramped. Too big, and it will look like the rug is swallowing up the furniture. So how do you pick the right size rug? Read on for our expert tips!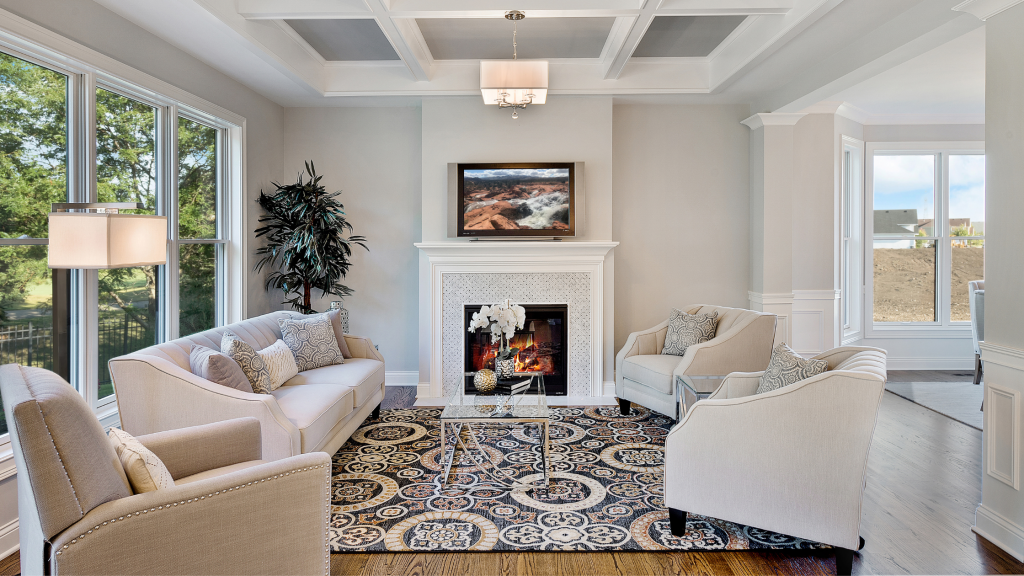 When it comes to picking the right size rug, there are a few general rules that you should follow:
Go big. The rug should be large enough so that all of the furniture in the room can fit on it. It's good to fit the front legs on the rug, and better to have 6"-8" excess rug on both sides of the sofa.


.

Rectangular rugs should

go the long width of the room or parallel to the sofa.


.



Always have a minimum walkway between furniture pieces of 18"-24" for small rooms, and 30"-36" for large rooms.
We've put together this helpful cheat sheet to help you determine the perfect size and placement of an area rug in different rooms of the house.
For a large space, match it with a large rug. This is especially important in open concept great rooms to visually define different zones. All large furniture pieces should be entirely on the rug.
Large room (12'x18') = 9'x12' rug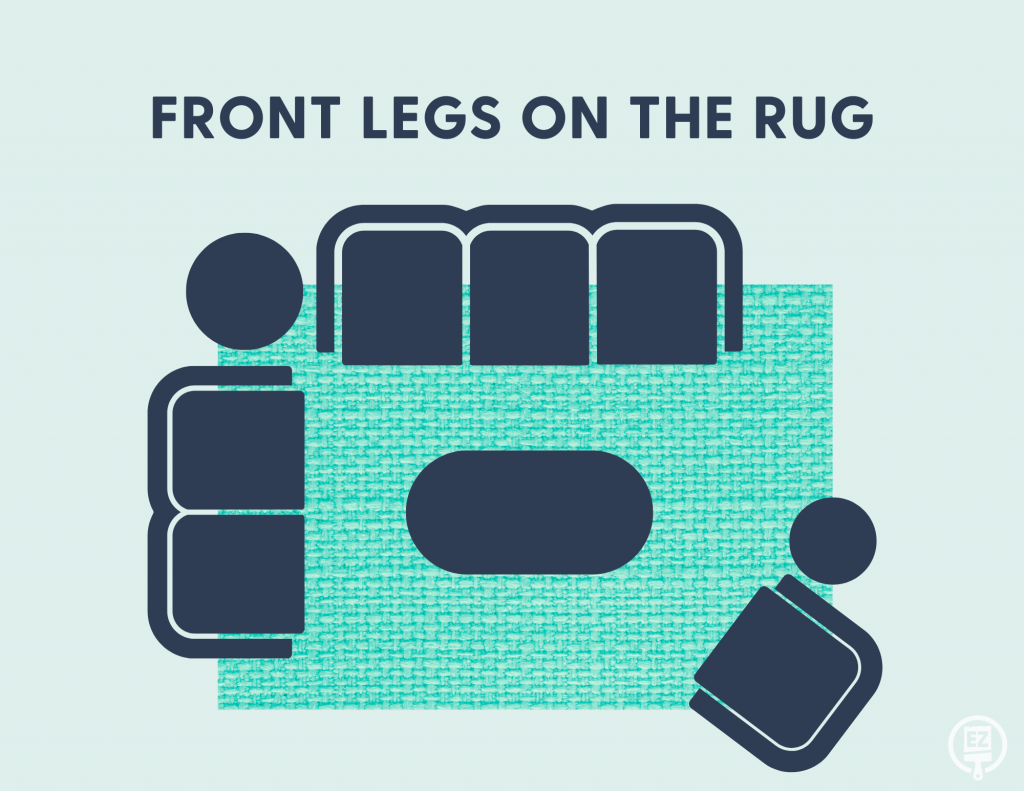 A smaller rug is ok for cozier spaces, as long as the front legs of the furniture make it on the rug.
Medium room (11'x13') = 8'x10' or 6'x9' rug
Small room = 5'x7' rug
Kitchen layouts differ, so the key of thumb is to put rugs in the work zones where you're likely to be standing at the longest. Typically this is in front of the sink and the stove.
Small separated work zones = 3'x5' or 2'x3' rug
Large/island work zone = 5'x7' rug
For enclosed-style kitchens, use one rug to cover the interior work space, ensuring it's large enough to include all the work zones.
Large space = 9'x12', 8'x10', or 6'x9' rug
Small space = 5'x7', 3'x5', or 2'x3' rug
A narrow kitchen is the ideal place for a long runner. At minimum, make sure all the work zones are covered.
Large galley = 10'-14' rug length
Small galley = 6'-8' rug length
Whether your table is rectangular or square, ensure that all chair legs remain on the rug when pushed back from the table.
Large table (8+ chairs) = 9'x12' or 10'x14' rug
Medium table (4-6 chairs) = 8'x10' rug
Small table (2-4 chairs) = 6'x9' rug
A round table is one of the few times a circular rug is encouraged. The rug needs to be large enough that all chair legs remain on the rug when pushed back from the table. Get a rug that is 24"-30" larger than the table.
72" table (8-10 chairs) = 10' rug
54"-60" table (6-8 chairs) = 9' rug
48" table (4-6 chairs) = 8' rug
36"-42" table (3-5 chairs) = 7' rug
24" table (1-2 chairs) = 6' rug
In a large master suite, choose a rug that is big enough to have at least 18"-24" rug underfoot on either side of the bed, while not obstructing any walkways. The nightstands should also be fully on the rug.
King bed  = 9'x12' rug
Queen bed = 8'x10' or 9'x12' rug
Full bed = 6'x9' or 8'x10' rug
If a room is not big enough to house the entire bed on a rug without infringing on the walkway, use a smaller rug that fits 2/3 of the bed while providing at least 18" of rug underfoot on the sides.
King bed  = 8'x10' rug
Queen bed = 6'x9' rug
Full bed = 5'x8' rug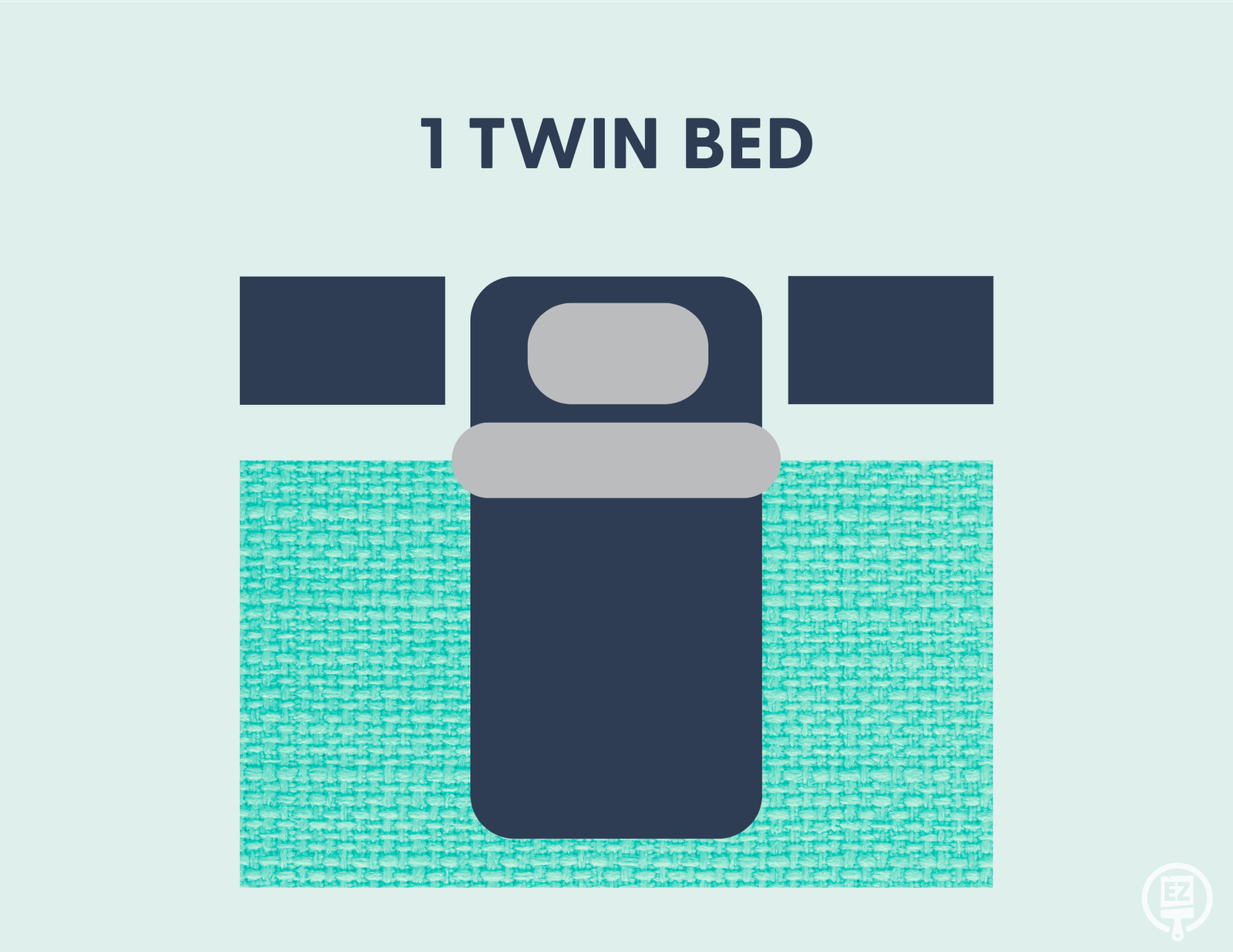 Just like with a larger bed, not smothering the walkway is key to ensuring the rug doesn't crowd the available space.
Bed fully on the rug = 8'x10' rug
Bed 2/3 on the rug = 5'x7' or 6'x9' rug
If two twins are close together in a small space, using one rug between the beds is best. When the beds are pressed against opposite walls in a larger space, use one big rug between the beds.
Large spaced twin beds = 5'x7' or 8'x10' rug
Small spaced twin beds = 3'x5' rug
Sneaky Secrets of the Pros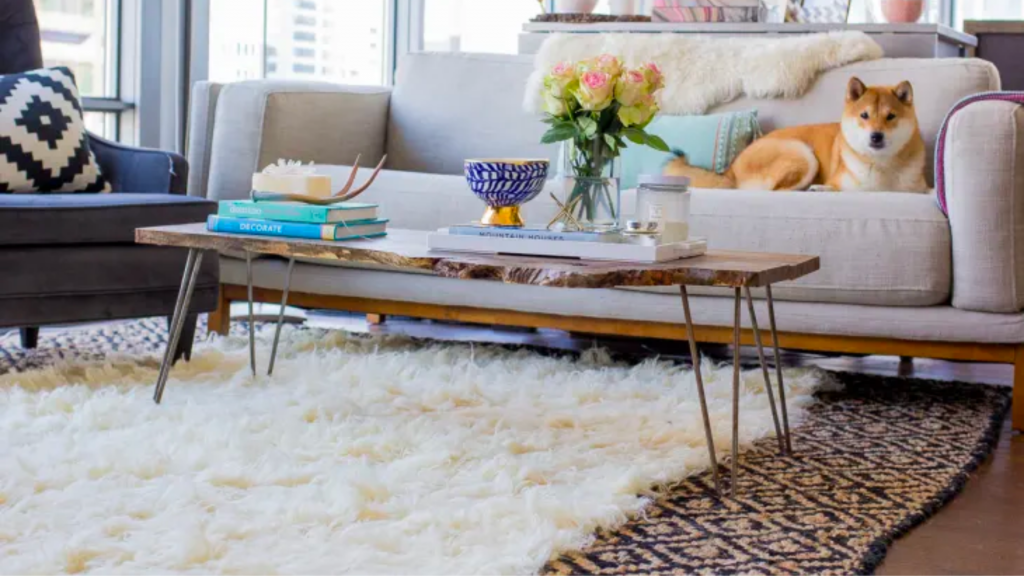 (Image Source - The Fox and She)
Get a carpet remnant for a fraction of the price of a rug! Home furnishing stores will often have large pieces of carpet that they need to get rid of.  Check out the clearance selection or furnishing outlets and you may snatch up the perfect textile that costs pennies on the dollar compared to a rug the same size.


.

Have you wondered how interior designers make a room look so polished and sophisticated? Pay attention to rug layers! Stacking different textures and patterns can instantly elevate any space and make it look like you hired a professional.


.



Unless you have a circular dining table or a round couch in an open space, don't use a round rug. Using a circular rug is an easy way to make your space look dated.


.



Go au natural. Synthetics tend to look cheap, so go for natural fibers like wool, cotton, hemp, or jute. Remember that this is an investment that can make or break a room, so be picky!


.



Use painter's tape to measure how a rug will fit in the room. This will save you from purchasing a rug that doesn't fit the size or flow of the space, and help you figure out the perfect placement without moving the furniture 20 times.
(Image Source - Love Happens Mag)
Picking the right size rug is essential to tying together the perfect space. By following our tips and using our rug size cheat sheet, you can shop with confidence!
Want to freshen up your space on a budget? Painting is an inexpensive way to instantly liven up any room. Schedule a free consultation today and fall in love with your home again.