Inside Out: The Ultimate Guide to Colorful Cabinet Interiors | Paint EZ
As the saying goes, the heart of any home is the kitchen. Kitchens have always been more than just a functional space for cooking and eating; they're the place for families to gather, and the backdrop of where precious memories are made! One trend that has been taking the internet by storm has been revamping those tired white cabinets by painting the interiors with fun and bold colors. In this blog post, we'll explore the reasons why sprucing up your cabinet interiors just might be one of the best design decisions you can make in your home, and we'll give you our top tips of how to make it amazing!
Why Painting Cabinet Interiors Matters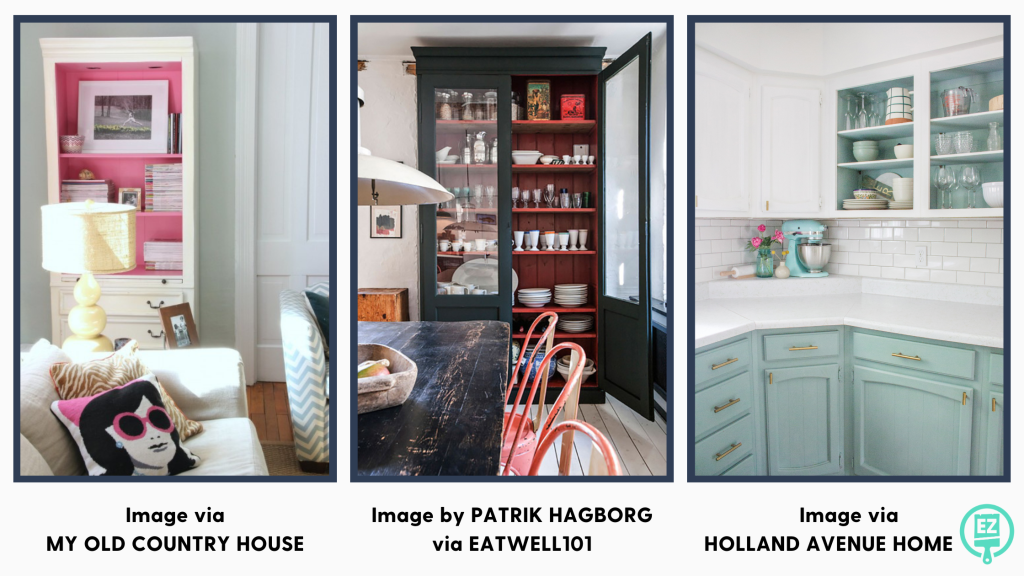 My Old Country House (left); Patrik Hagborg via EatWell101 (center); Holland Avenue Home (right)
One question you may be asking yourself is, why paint the inside of your cabinets at all? After all, isn't the inside covered most of the time with dishes and empty cereal boxes?
Paint adds a layer of protection
Paint serves as a defensive barrier, shielding the cabinet material from wear, tear, moisture, and the accumulation of grime over time. This prolongs the lifespan of your cabinets so you can continue to enjoy them for years to come.
Functionality and design
A pop of color inside the cabinets can create better visibility, making it easier for you to find items stored in the back. It's also a great statement opportunity, allowing for an element of surprise when a cabinet door swings open to reveal a vibrant, unexpected color. Paint instantly adds a touch of whimsy and personality to your kitchen, elevating the entire space.
And if you have glass-fronted cabinets, painting the interior is a must for highlighting your dishware and creating a stunning visual effect.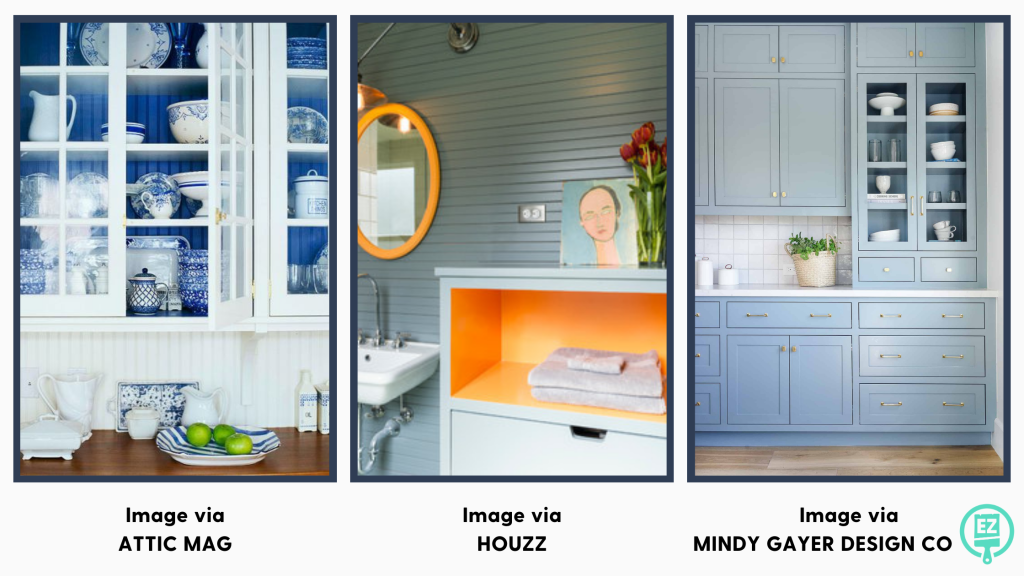 Attic Mag (left); Houzz (center); Mindy Gayer Design Co. (right)
When it comes to picking the perfect color for your cabinet interiors, there are a few things to consider. First, think about the mood or vibe you would like to create. If you want a space that feels bright and cheerful, you may opt for a yellow or light blue color. On the other hand, if you want a more sophisticated space, you may opt for a deep earthy green, mauve, or even black. It's also essential to consider the color of your cabinet's exterior, backsplash, hardware, and the style of the overall room.
Designed Simple (left); Decor Pad (center); LiveLoveDIY (right)
Aside from paint, get creative with other materials.
Wallpaper: Use peel-and-stick if you rent or have commitment issues. It also opens up so many options for beautiful print designs for a truly unique touch.
Wood paneling: Want to keep things minimal or incorporate more natural design elements? Use bamboo, shiplap, or even faux wood linoleum to add a beautiful texture that makes a stunning backdrop for open-faced cabinets.
Tile: Tile is durable and easy to wipe clean. Using tile inside open-faced cabinets can visually extend the backsplash, or create a bold and dramatic contrast!
Chalkboard paint: While technically still paint, this can be such a fun and functional use of underutilized space! Use chalkboard paint so you can write notes or recipes directly on your cabinet doors, then tuck the visual clutter out of sight when you're done.
DeVOL Kitchens via Domino (left); BKC (center); Karen LeBere Design Etsy (right)
It's worth considering the lighting situation in your kitchen or bathroom, particularly if you plan to paint your cabinet interiors with a darker color. A dark interior can be gorgeous and elegant, but it will make it harder to see inside, so it may not be ideal for a spice cabinet in a poorly lit kitchen.
Another thing to keep in mind is the shelves. Don't forget to paint that front edge, unless you want the contrast of the shelf's current color!
Olivia Emery (left); Nathan Schroder via D Magazine (center); Pretty Handy Girl (right)
While your cabinets are getting a makeover, this can also be a great time for some other little upgrades to really revamp the space. Consider updating cabinet hardware, installing cordless cabinet lighting, or even adding Command hooks to optimize storage space for things like mugs and measuring cups.
Essential Home EU (left); A Beautiful Mess (center); Sound Finish (right)
Injecting color into your kitchen by painting the interior of your cabinets provides both an aesthetic and functional upgrade. These interior design choices reinforce the tone of your space, reflecting your personality and style. Feeling inspired to paint the insides of your cabinets now?
--
Not sure where to start? Paint EZ is here to help! Grab your free quote today and let our professional painters transform your cabinets —all without any of the stress of doing it yourself!