Types of Paint Finishes + Room Guide
When it comes to painting the inside of your home, there are a lot of factors to consider. One of the most important decisions you'll make is choosing the right paint finish. The finish you choose can affect everything from durability to touchups to washability. In this guide, we'll walk you through the most common types of paint finishes and their pros and cons. By the end, you'll know exactly which type of paint finish is right for every room in your home.
(Image Credit - Valspar)
The most common types of interior paint finishes are flat, eggshell, satin, semi-gloss, and high-gloss. Let's take a closer look at each type of finish.
If you're looking for an ultra-flat interior paint finish that will disguise imperfections on walls and ceilings, a flat or matte finish is a good choice. These have no or very little sheen, have more paint pigment, and provide the most coverage. This produces a deeper tone for a sophisticated, velvety appearance.
While easy to touch up, flat and matte finishes are more difficult to clean than other types of finishes because they tend to come off almost as easily as the grime.
These no-shine finishes are best for low-traffic areas like adult bedrooms, dining rooms, or on ceilings. Avoid using this in a busy family room, unless it's a relatively large space that never sees kids or pets.
Eggshell finishes are a popular choice. Similar to flat/matte finishes, eggshell covers wall imperfections with the benefit of slightly more durability and it's easier to clean.
Eggshell gets its name because it appears nearly matte with just a hint of luster —just like a chicken's egg! This is still fairly low on the sheen spectrum, avoiding a glossy look but not quite a flat finish.
A low-sheen paint is a good pick for medium-traffic gathering spaces in the home, such as the family room, hallways, and entryway. However, they tend to peel around moisture, so avoid using non-acrylic eggshell finishes in the bathroom or other places with high humidity.
Satin has a soft pearly paint sheen, putting it between eggshell and semi-gloss. However, unlike lower-sheen finishes, satin is less ideal for hiding imperfections, and you're more likely to see brush strokes from future touchups. Usually, it's easier to just repaint the entire wall.
While Satin finishes are harder to fix, they're more durable and easier to clean than the lower-sheen options. The higher light-reflectability lightens the space, making them ideal for small rooms.
Satin finishes can withstand higher traffic, making them one of the most versatile paint finishes for use all over the house. Confidently use them in family rooms, foyers, hallways, kitchens, laundry rooms, bathrooms, closets, and children's bedrooms.
This is also a great choice for kitchen cabinets, stair banisters, ceilings, interior doors, and trim work.
4. Semi-Gloss & High-Gloss Finishes
Semi-Gloss and high-gloss paints are ultra shiny and have high durability. They resist stains and dirt better than any other type of finish, and they're the easiest to clean without worrying about damaging the paint.
However, a glossy finish highlights imperfections and reveals application flaws, so they may not be the best choice if your walls are not in great condition. Be warned that you'll need to be meticulous with drywall repairs and prep work before painting. They also reflect more light, which may be too much shine that can seem overwhelming for a large room or in an open-concept living space.
Semi-gloss and high-gloss paints are the favorites among landlords and young families, thanks to their durability. These paint finishes can take a beating and withstand high-traffic areas, as well as resist mildew in humid climates.
Use semi-gloss or high-gloss paints in the kitchen, bathroom, laundry room, playroom, basement, and on trim.
Paint Finishes Room Guide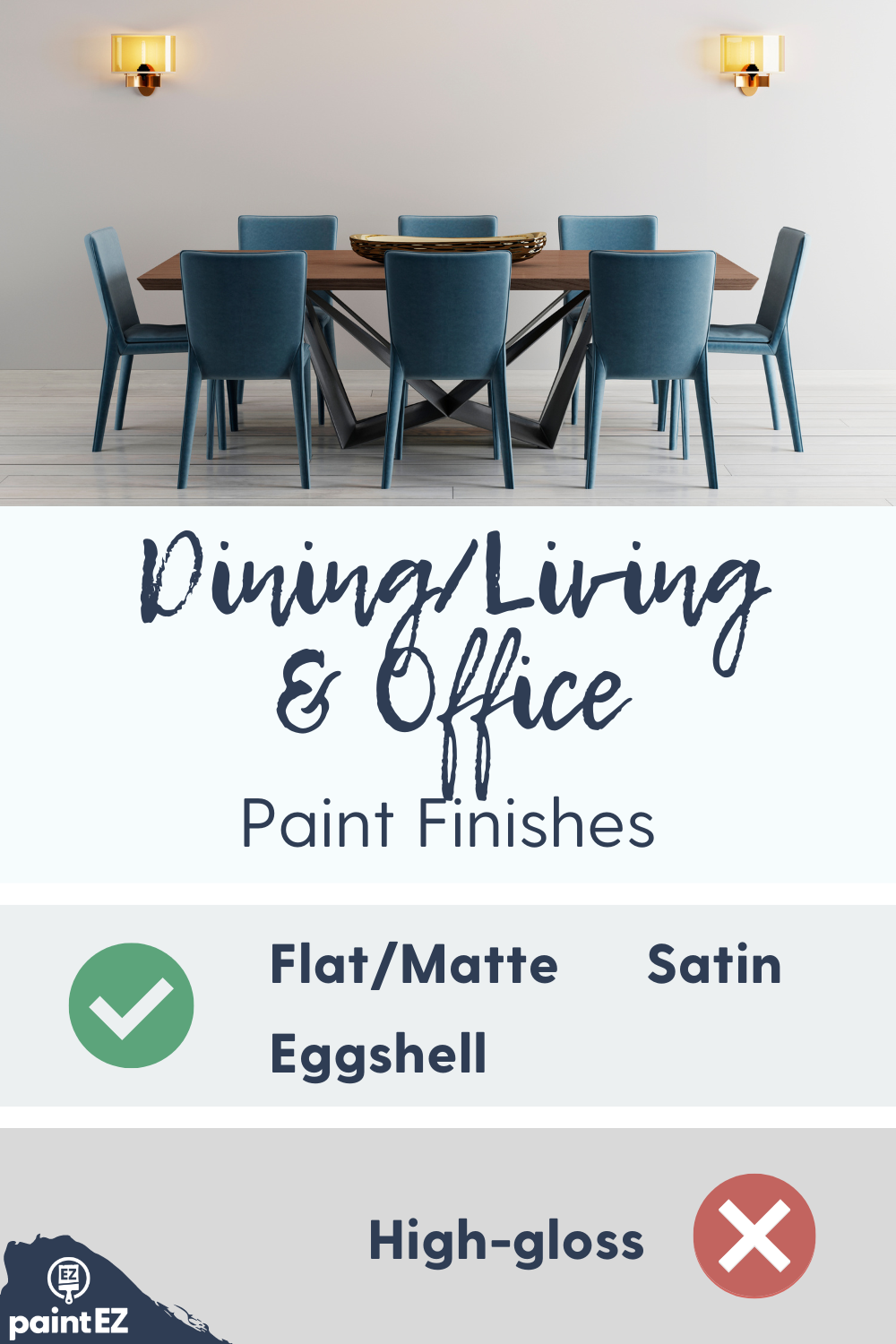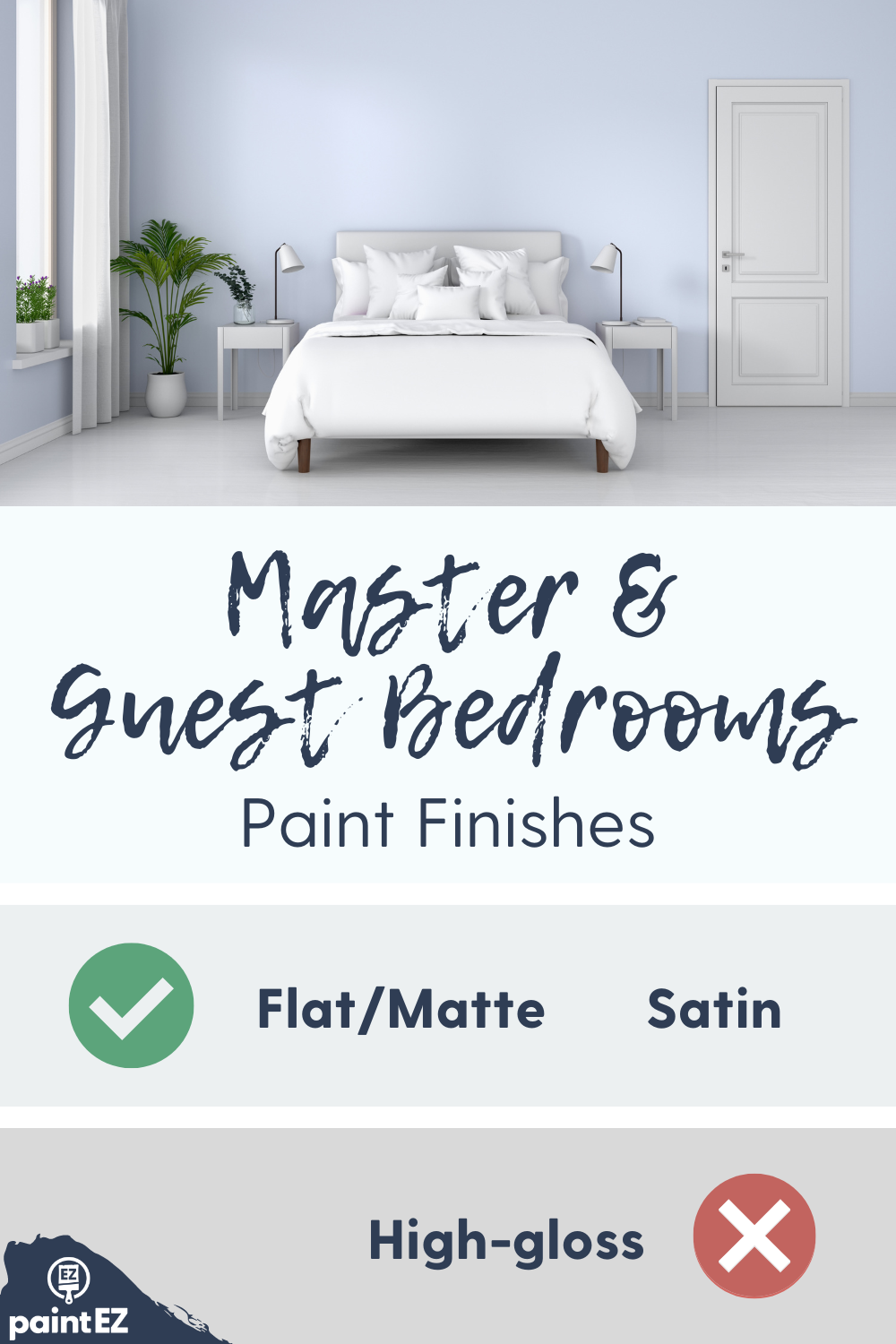 What is the best type of paint finish for interior walls?
This depends on your needs. Generally, a higher sheen (shininess) means greater durability and easier to clean, but the tradeoff is that it'll expose imperfections.
What type of finish is best to use on trim work?
Semi-gloss, high-gloss, and satin finishes are the best choice for trim, as they're more durable and easier to clean.
Can I use flat paint on the walls?
Yes, but be aware that it's more difficult to clean and touch-ups will be more noticeable. It's also not a good choice for high-traffic areas, and it's not kid-friendly.
What's the best paint to use in kids' rooms?
Semi-gloss or satin finishes are the best choices for bedrooms and playrooms, as they're more durable and easier to clean.
What paint should I use on the ceiling?
Opt for something with low reflectability, such as flat/matte or satin paint.
What type of paint is the easiest to clean?
High-gloss paint is extremely durable. It can hold up to sticky fingers and constant rubbing in high-traffic living rooms better than matte paints, but the tradeoff is that its light-reflecting glossy finish does show surface imperfections, so don't skip the wall prep before painting.
Do paint sheens affect paint color?
On a painted surface, paints with a glossier finish reflect light more than matte-finish paint does. Higher-gloss paint (like eggshell paint or a satin paint finish) looks brighter because more light reflects off the surface.
Matte paint finishes are shine-free and have the most pigment, appearing darker and more consistent in natural light.
Do paint sheens look different in the same lighting?
High and semi-gloss paint will have the most variation in appearance in different lighting because of how much light they reflect. A room painted with a glossy finish will appear brighter in direct lighting, whereas matte finishes have the advantage of a uniform surface appearance.
Also, be aware that the light source affects how the paint color looks. An important rule of interior design is to see the paint samples in your home, where the lighting will make them appear completely different from how they looked at the paint store.
Choosing the right paint finish is an important part of painting your home. Each type of finish has its advantages and disadvantages, so it's important to choose the right one for your needs. If you're not sure which type of finish is right for you, schedule a free consultation with our painting professionals, who will be happy to assist you in picking the perfect paint finish for your home.